A top ten of the best films by actor Kevin Costner with at number one the sports film Bull Durham (1989), at number two JFK (1991) and at number three the Eastwood film A Perfect World (1993). Let us know in the comments if you miss a movie in this top ten.

1. Bull Durham (1989)
Crash (Kevin Costner), a longtime baseball veteran, is brought to Durham Bulls to get this club out of the doldrums. Even more important, however, is his role as a trainer for the talented Nuke Laloosh. However, Nuke seems to warm up much faster for Annie than for baseball and Annie has no problem with this. Crash does not give up though and also has a number of tricks up its sleeve.
2. JFK (1991)
1963: Jim Garrison takes on the task of investigating President John F. Kennedy's assassination in Texas. Garrison is very suspicious of the official story told by the FBI. What he already knows, and what he subsequently discovers, makes him suspect that there is more to it than what is being told to the public.
3. A Perfect World (1993)

Butch Haynes escapes with his cellmate. Due to his actions, he is forced to take a hostage, a boy from a religious family, whom his father never knew. Texas authorities want to prevent him from crossing the border. The first clue in their pursuit is the body of the cellmate. Meanwhile, Butch and the boy form a bond.
4. Field of Dreams (1989)
One day, when standing in the middle of his cornfields, Iowa farmer Ray Kinsella hears a voice telling him to build a baseball field on his land. He follows up on the voice, and when the job is done, the ghosts of several legendary baseball players appear on the field. After getting further directions from the voice, Ray looks for a writer who can help explain the messages and purpose of the field.
5. Silverado (1985)
New Mexico, 1880. The cowboy Emmett saves one Paden, a man with a dubious past, from certain death in the desert. Together, they arrive in the town of Turley just in time to release Emmett's death-rowed brother Jake from prison. The trio then set out for Silverado, where they want to start a new life. On the way, they pick up a fourth man, Mal, a black man who is looking for his father's murderer. In Silverado, the foursome has a fight with one Cobb.
6. Open Range (2003)
The year is 1883. Former gunfighter Charley Waite, as well as 16-year-old Spaniard Button and cook Mose, now work as a drover for Boss Spearman, the old leader who roams the country with a herd of cattle. One day, when the foursome pass the town of Harmonville with their livestock and turn them on for purchases, they are threatened by the corrupt sheriff Poole, who is on the payroll of influential landowner Denton Baxter. Baxter doesn't like drovers. When Mose is killed and Button badly injured by Baxter's henchmen, Spearman and Waite are forced to take action. Things get complex when Waite falls in love with Sue Barlow, the local doctor's attractive sister.
7. Tin Cup (1996)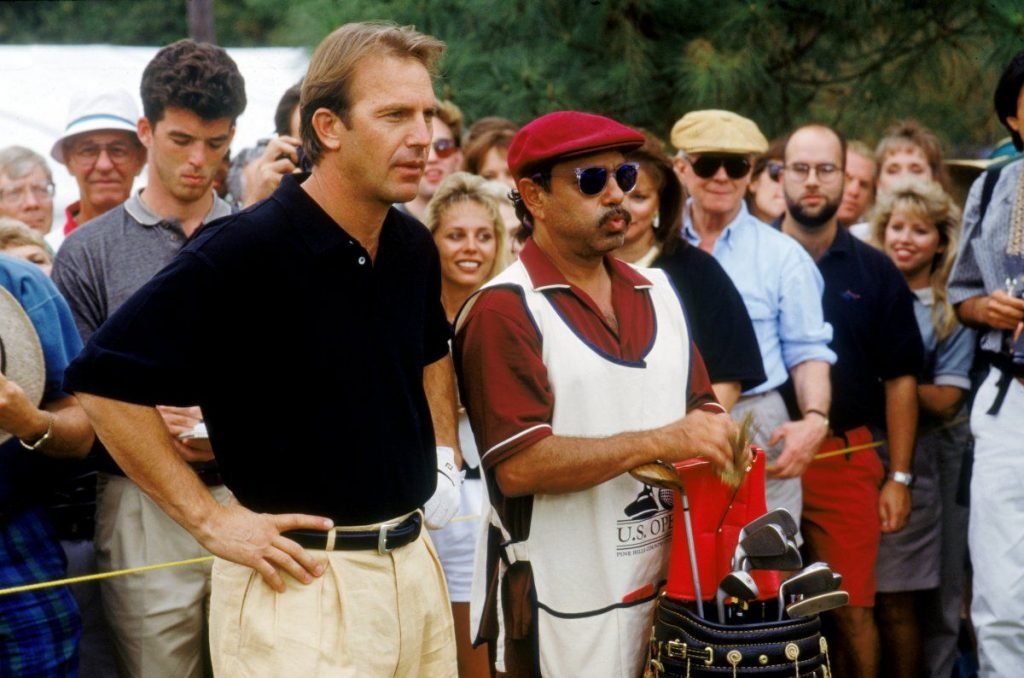 Roy McAvoy, aka 'Tin Cup', teaches golf on a godforsaken terrain in Salome, Texas, where almost no one goes anymore. In desperation, he accepts to work as an ordinary caddy for his eternal nemesis, champion David Simms. To make matters worse, he also falls in love with his girlfriend, psychologist Molly Griswold. She comes to take golf lessons with Roy and he is sure he has no chance of winning her heart. Maybe if he can win the US Open, the toughest golf tournament in existence …
8. The Untouchables (1987)
Chicago is a violent and corrupt city in the 1930s, the time of Prohibition. Chicago is also the city of Al Capone, the legendary gangster con man. No one has yet succeeded in limiting his absolute power over organized crime. Until the Treasure Department decides to have the dirty job done by a somewhat modest figure, Eliott Ness. Ness has only one goal: to succeed in his assignment. But to survive in Chicago, he needs allies he can count on in all circumstances. He gets the support of Malone, an adamant boisterous Irish police officer, who wants to teach him Chicago harsh law. He recruits his other supporters within the Treasure Department itself. Stone, a boisterous fellow and an excellent gunman, and Wallace, a humorous but determined bookkeeper.
buy The Untouchables at Amazon
9. No Way Out (1987)
In a fit of rage, Defense Secretary David Brice murders his mistress. To cover up the scandal, his loyal associate creates the perfect cover: he 'invents' a seductive killer – a Russian spy – and then enlists the help of Navy Commander Tom Farrell to find him. However, as determined by fate, Farrell also has a strong connection with the victim … and all the clues he discovers to solve the crime lead straight to him! Farrell's search for the killer is not only a matter of national security, but is also one to save his own skin.
10. Dances With Wolves (1990)
Lt. John Dunbar is hailed as a hero after inadvertently leading Union troops to victory in the American Civil War. He asks for a position to the west, but finds an abandoned place. He soon discovers that he is not alone there: he meets a wolf and an Indian tribe. He befriends the Indians and meets a white woman who grew up among the Indians.
buy Dances With Wolves at Amazon